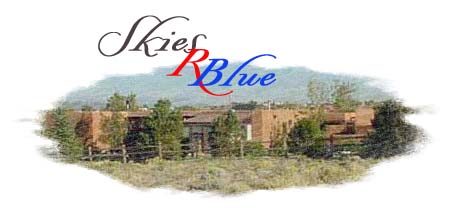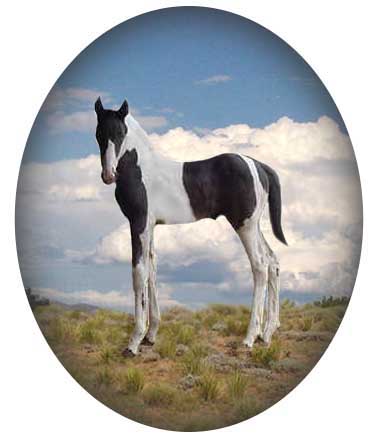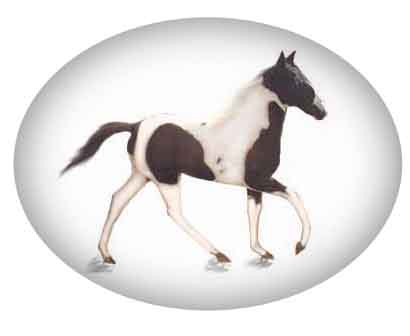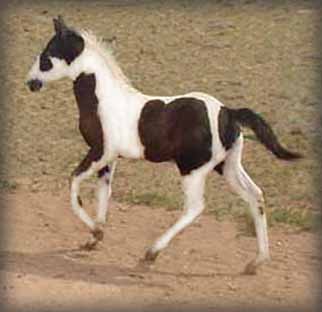 A Foundation Bred Tennessee Walking Horse Colt
DNA Tested Homozygous for the Tobiano Gene
Pride's Top Threat's pedigree traces its' Tobiano to
the Foundation Tobiano Tennessee Walking Horse Sandy Sun's Sally.
Click below to read history.

Pride's Top Threat's Pedigree Includes:
Thirteen Lines to Old Time, Naturally Gaited World Grand Champions Midnight Sun, Mack K.'s Hand Shaker, Sun's Delight D., Ebony Masterpiece, Ebony's Senator, Triple Threat, Go Boy's Shadow and Merry Go Boy

Three Lines to Giovanni through Sealy's Pretty Girl, Parader's Merry Girl and Struttin' Sal

One Line to Trouble through Deep Purple

Six Lines to Last Chance through Sun's Delight D., Gowen's Sun Beam, Peacock and Wilson Snip's Chance

Six Lines to Merry Legs F-4 through Merry Boy and Major Allen

Three Lines to Foundation Tobiano Sandy Sun Sally through White Sally and Dusty Sally
Registered
Tennessee Walking Horse Breeders and Exhibitors Association
Spotted Saddle Horse Breeders and Exhibitors Association

Email: SkiesRBlue Stables

Skies R Blue Stables
Tennessee Walking Horses, Spotted Saddle Horses

Tim Beckmon
70 Camino Vista Grande, Santa Fe, New Mexico
Res./Barn 505-471-3643 Cell/Voice Mail 505-470-6345
Free search engine submission and placement services!

Foundation Bred Homozygous Tobiano Tennessee Walking Horses and Spotted Saddle Horses