Mr. James R. Brantley (L.) and Mr. Albert Dement admire the great
Tennessee Walking Horse sire
Last Chance.
Photo Courtesy TWHBEA (circ. 1935)
Most Tennessee Walking Horses trace heavily to Roan Allen F-38
through Midnight Sun. Many others trace to Roan Allen F-38
through Merry Boy, out of Merry Legs F-4.
A different gene pool was started by Albert Dement in 1930
when he crossed Hunter's Allen F-10 with Merry Legs F-4.
The foal, Last Chance, foaled in 1931 was the only horse
to pass on this unique set of genes because he had no lines to Roan Allen.
Crossing Last Chance (Hunter's Allen) horses with Roan Allen horses
produces hybrid vigor in the foals, resulting in improvements in
stamina, size, gait, intelligence, conformation and disposition!
John A.'s Chance

ridden by Steve Hill (circ. 1955)

Chance's Gold Dust H

.

(circ. 1973)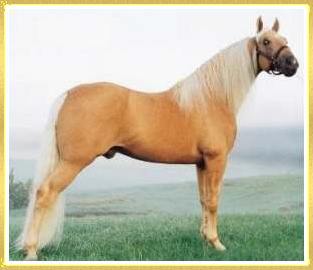 Tennessee Goldust