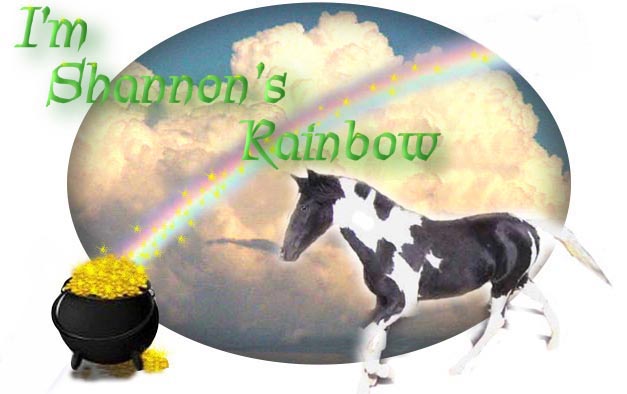 Naturally gaited with a long over stride at the running walk and a rocking chair canter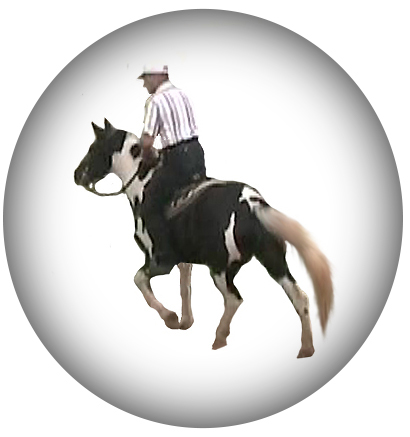 A Foundation Bred Tennessee Walking Horse
I'm Shannon's Rainbow's pedigree traces its' Tobiano to
the Foundation Tobiano Tennessee Walking Horses Sandy Sun's Sally and Curlee's Spotted Alen.
Click below to read history.



Shannon's Pedigree Includes:
One line to Curlee's Spotted Alen through Shadow's Spotted Alen, one line to Sandy Sun Sally through Rainbow's Dandy Man, one line to Triple Threat through Threat's Top Man plus numerous lines to foundation horses Allan F-1, Wilson's Allen, Roan Allen, Merry Boy, Merry Go Boy, Hall Allen, Hunter's Allen, Merry Legs, Nell Dement, Ramsey's Rena and Last Chance with no influence of the big lick horse.

Registered:
Tennessee Walking Horse Breeders and Exhibitors Association
Spotted Saddle Horse Breeders and Exhibitors Association
International Pleasure Walking Horse Registry
Skies R Blue Stables
Tennessee Walking Horses, Spotted Saddle Horses

Tim Beckmon
70 Camino Vista Grande, Santa Fe, New Mexico
505-470-6345
Free search engine submission and placement services!

Foundation Bred Homozygous Tobiano Tennessee Walking Horses and Spotted Saddle Horses